Travel Business – 7 Tips to Recover From Disaster
Travel business has been affected as After WHO declared COVID-19 as a pandemic situation, businesses worldwide have been forced to layoff their operation for a certain period. Here, the travel & tourism business, which belongs to a fragmented industry has confronted a huge catastrophe like no other industry in the world.
Every individual associated with the tourism & hospitality industry directly or indirectly is encountering complications in dealing with this crisis. With the lockdown of various nations, working professionals of the Indian travel industry, especially the small medium businesses will be facing a lockdown of 2 crore jobs.
Global Scenario of the Travel business
As warned by the World Travel & Tourism Council, the pandemic of COVID-19 will have a harsh impact on the employment & businesses worldwide.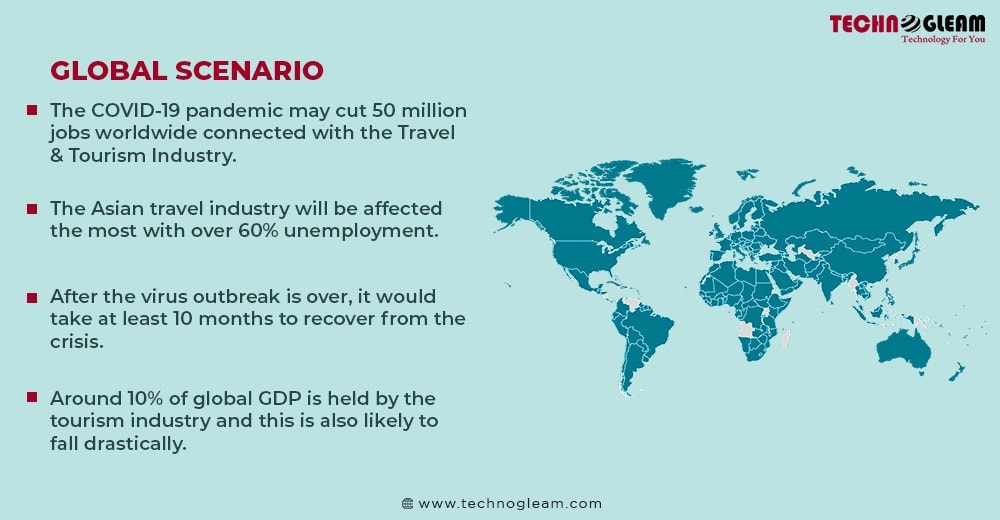 How the Indian Travel & Tourism Industry Reacted
This is one of the biggest & worst distress to hit the Indian tourism industry, as said in an official statement by the industry chamber CII. All the geographical segments and almost all tourism verticals will be impacted by this virus outbreak.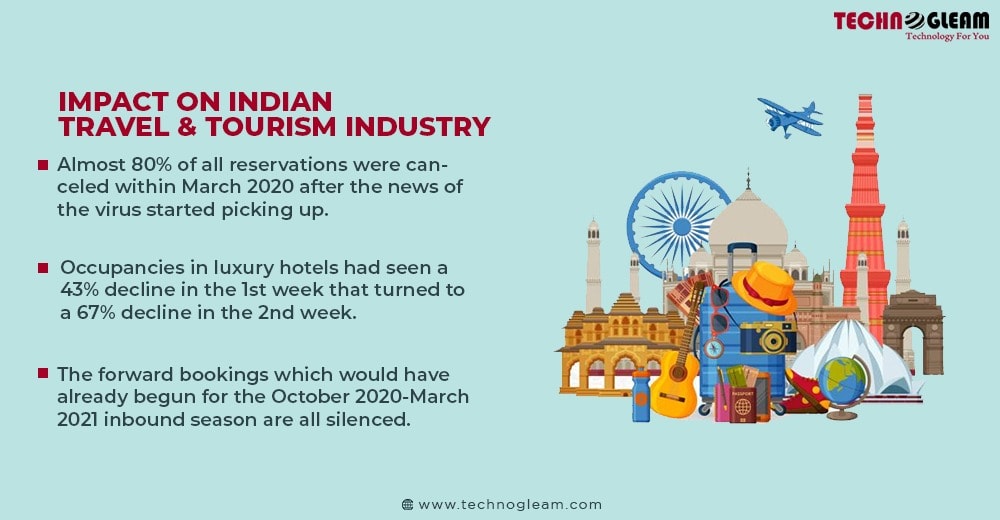 Writing a letter to the PM, the industry pioneers have urged the PMO to get involved to minimize the damage.
In addition to the market loss for the 5-trillion industry, FAITH said the economic downturn might leave 38 million workers (or 70% of both directly and indirectly employed) unemployed.
Govt. Initiatives to Survive the Crisis
Comprehensive Announcement on relief for Statutory Compliance Regulations by Hon'ble Finance Minister. Here we just highlighting the points that are related to tourism.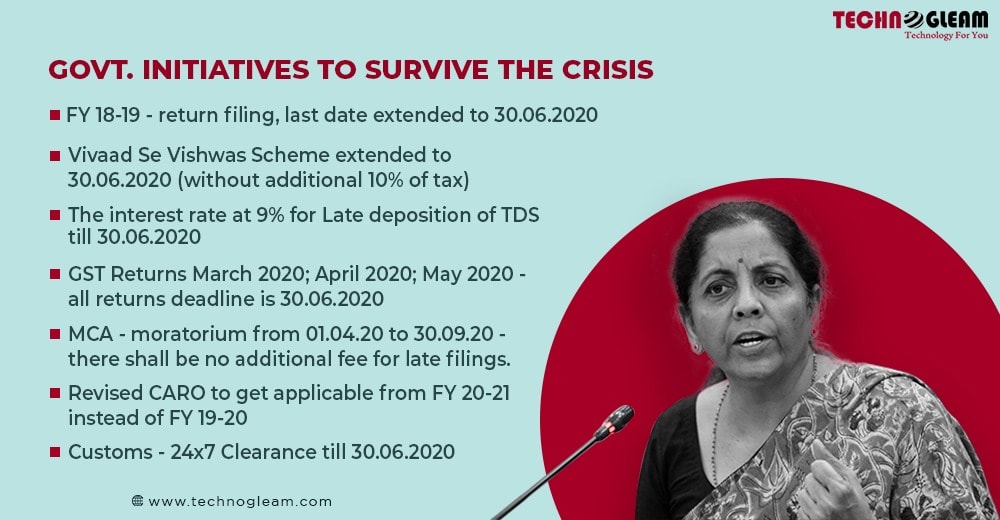 The government will pay EPF Contribution for Employer and Employee for the next three months (For establishment having up to 100 employees and of these 100 employees, 90% employee earn less than Rs. 15 Thousand/month.)
Non-Refundable EPF Withdrawal allowed up to 75% of their balance or 3 months' wages, whichever is low (4.8 Crore workers will get the benefit)
What should you do now?
Now, every individual associated with the travel industry might be thinking – "Where do we go now", "What do we do" or "How do we survive" and this is the harsh truth of the situation that we all have to accept.
To not make this situation any worse, as a digital marketing adviser we've come up with a few qualitative solutions that travel & tourism businesses can implement for their betterment.
It's an Oppotunity!
After analyzing the average social media presence of the netizens, it's evident that they spend more time on social media platforms during this lockdown period. This can be a great opportunity for travel brands to interact with homesick individuals & present them with interesting content that will keep them busy & engaged with their brand.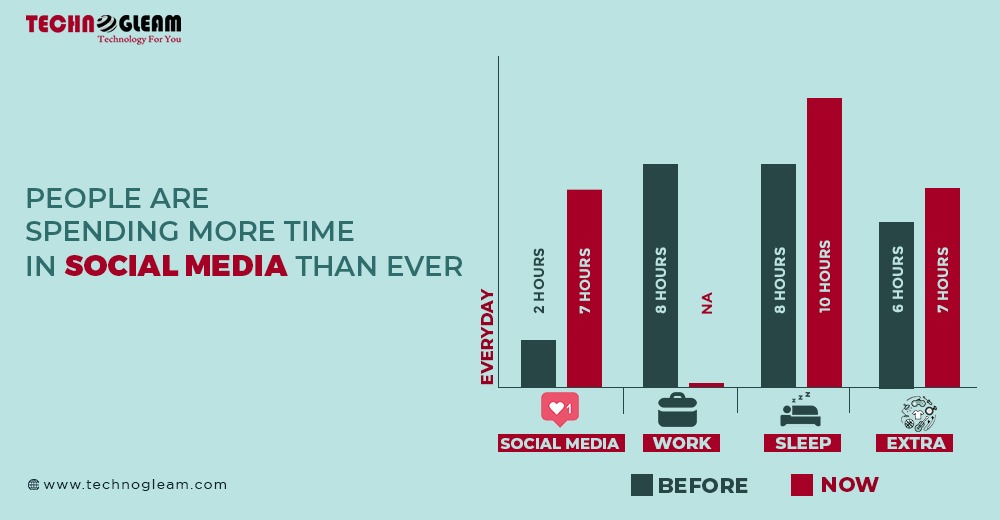 1.Be a trusted source of up-to-date information
A small & simple word – Trust. You can provide up-to-date & reliable information to your audience related to COVID-19 & its impact on the travel & tourism industry. You can publish blogs, videos, illustrations & speech real on your website or social media platforms that will keep them informed and updated.
2.Show health advisory guidelines
You can express your concerns about the health of your audience & show them how much you care about them. This can be done by sharing health advisory guidelines, running surveys online, hosting community interaction digitally, etc.
3.Keep your Brand active using social networks
Many travel agencies have either reduced or stopped running ads on social media as no one will be traveling now. But this is not a good decision for the situation as now, people have implemented work from home in their daily schedule & will be more active in social media platforms.
With the support of a digital marketing agency, you can present them with beautiful destinations, thrilling activities to do, compelling pictures captured by previous travelers and interesting travel stories. This may arouse interest in them & they may even plan a future holiday with your brand.
Not only about traveling & fun, but you can also share information about essential services like – groceries, pharmacies, gas, etc. The goal is to stay active & interact in the situation when all others are being vanished.
4.Connect with the audience by sharing guest's pictures in Instagram
The best way to connect with the audience is by sharing traveling pictures of your guests. Show them how your guests have enjoyed their holiday & where did they visit.
The best way to share travel memories is by expressing them with pictures & the best platform for it is Instagram.
5.Engage your audience on Facebook with interesting tasks
Facebook is the most popular social media platform among all others. With the highest active users base, you can use this platform to host quizzes, puzzles, and other interesting activities.
6.Offer them a virtual destination tour in YouTube
A person who loves traveling is quarantined and can't go outside. This is the worst situation for a traveler and the best opportunity for travel brands to give them a virtual tour of their beloved destinations from your dedicated YouTube channel.
And this is where the secret tips and tricks of digital marketing for travel agency comes into play. It not only helps creating a brand but also brings exclusive business leads when promoted strategically.
7.We are all together in this situation
The only motto of a travel brand now shall be to keep audiences interested & engaged with them. If you can accomplish this, then it would be a great achievement for your brand. Not only you will develop a potential client base but also your brand will be highlighted globally.
We are here for you!
To make this situation better for all travel businesses, being a digital marketing adviser, our R&D (Research & Development) team is always ready to highlight your brand & keep it active 24*7 even during this situation.
As our first priority is our clients, It is our responsibility to ensure no loss to their business. We will accomplish this with smart digital marketing solutions that will help travel brands to stay connected with their customers and build a strong relationship with them.